FREE A4Aviation Ocean Bottle with all orders over 1500€
How!?
To get your free Ocean Bottle, all you need to do is add whichever colour bottle you fancy to your cart of over 1500€ and the price will automatically be deducted from the total. Help reduce ocean plastic, for free, with A4Aviation!

Visit our Online Shop
A4Avaition and Ocean Bottle
Here at A4Aviation we strive for a greener and more eco-friendly future whether that be through our low fuel burn or electric aircraft, our eco-friendly, solar powered hangar and office space and now our support of the Ocean Bottle initiative.
Here are a few facts:
22 million kgs of plastic enter our oceans every day.
By 2050 there will be more plastic by weight than fish in our oceans and the rate of plastic going into our oceans is only increasing.
Yet up to 80% of the world's ocean plastic comes from a lack of waste management infrastructure in coastal communities around the world.
We need to create a long-term network of recycling infrastructure to ensure plastic is collected before it enters our oceans in the first place.
The world needs to drastically reduce its plastic production and we need to reduce our single-use plastic. Beach cleanups are helping to save our seas but we believe that to truly have an impact right now on the crisis we need to stop plastic before it hits our oceans, to put a value on collecting that plastic, and then connect as many people as possible to this solution.
Supporting Ocean Bottle
A4Aviation is supporting the Ocean Bottle initiative by creating its own A4Aviation branded bottles for it's partners and customers.
Each bottle funds the collection of 11.4kg of plastic which is equivalent to 1000 plastic bottles and furthermore it aids in people-powered waste management.
Plastic waste is collected by locals in coastal communities who can exchange plastic waste for money, healthcare, tech products, school tuition and micro-finance at their local Plastic Bank.
By 2025 Ocean Bottle aims to collect 80 million kg of plastic which is equivalent to 7 billion plastic bottles. A4Aviation is helping with this goal and you can do too by purchasing an A4Aviation Ocean Bottle! Yes, I will support this project!
The Bottles
The Ocean Bottle's flawless design makes it the perfect companion to avoid single-use plastic every day forever. Not to mention your ticket to becoming part of a movement dedicated to saving our oceans.
Features:

500ml / 250g
Dishwasher safe
Dual opening for pouring drinks
Stainless steel Insulation for hot and cold drinks
Up-cycles ocean-bound plastic
Anti-leak
Easy carry loop
Colours
 Volcano Black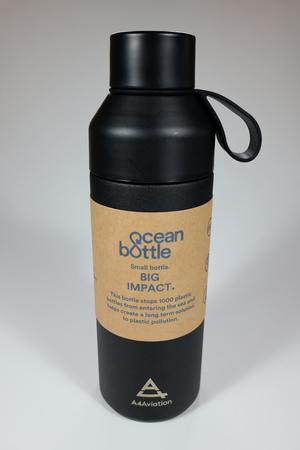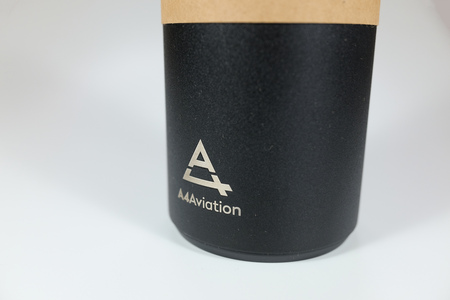 Forest Green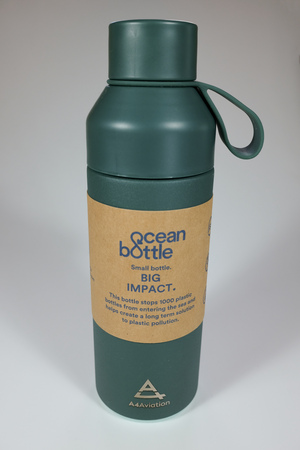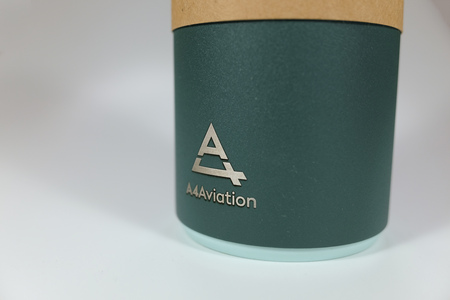 Ocean Blue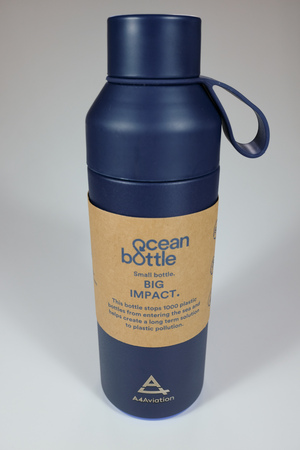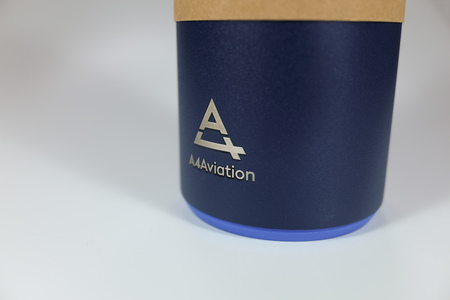 Sun Orange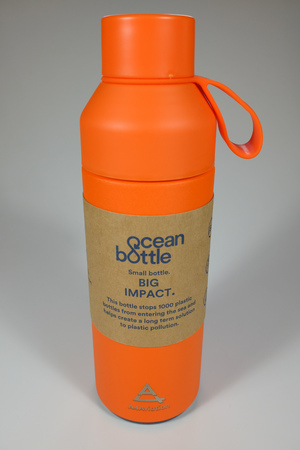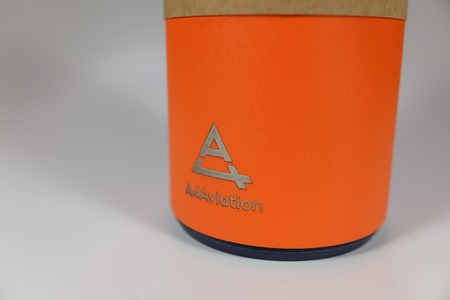 Visit our Online Shop