Get in touch for pricing!
Clouddancers
Indoor and Outdoor, Full and Canopy covers for all Aircraft and helicopters
Since 2006 Clouddancers has been offering high-quality all-weather covers, cotton cloth hangar covers, and canopy covers for gliders, powered gliders, powered aircraft and microlights.

The goal is to protect your aircraft with a functional and elegant design. Particular attention has therefore been put on waterproofing, breathability, and reliable UV protection.

In addition to the standard all-weather cover and dust covers made ​​of cotton, we also offer special covers for extreme climatic conditions, including our premium "Uncutable" ™ products.

Clouddancers also can provide specific features such as solar panel windows, ballast fill point doors and competition and registration numbers printed onto your cover.

Clouddancers already have the design model for most aircraft. If you do not find your aircraft model please don't hesitate to contact us so we can design a cover for your aircraft model! Our goal is always customer satisfaction!

If you would like more info or would like to order please contact us.
The Official Distributor for Clouddancers covers
Clouddancers have entrusted us with the sales and distribution of their covers. Our extensive knowledge of the aviation industry and our prime location allows us to be able to provide the best service to go with these excellent products. This and our ability to communicate with you quickly and easily makes for a great customer experience before, during and after your purchase.
Additional Quantity discount
If you need more than one cover, for a club, a group of friends or if you have multiple aircraft we can offer good discounts for orders like these. Please contact us so we can get you the best price possible. You are of course welcome to mix and match different covers, whether indoor and outdoor, full or canopy, for any type of aircraft.
No handling fees
When you shop online for products and you finally find a site that has good prices. You proceed and order the product and just before payment you see that an additional 65 Euro handling fee was added (in addition to the shipment cost). I just hate this kind of experience !

We don't charge any handling fees !
Clouddancers Products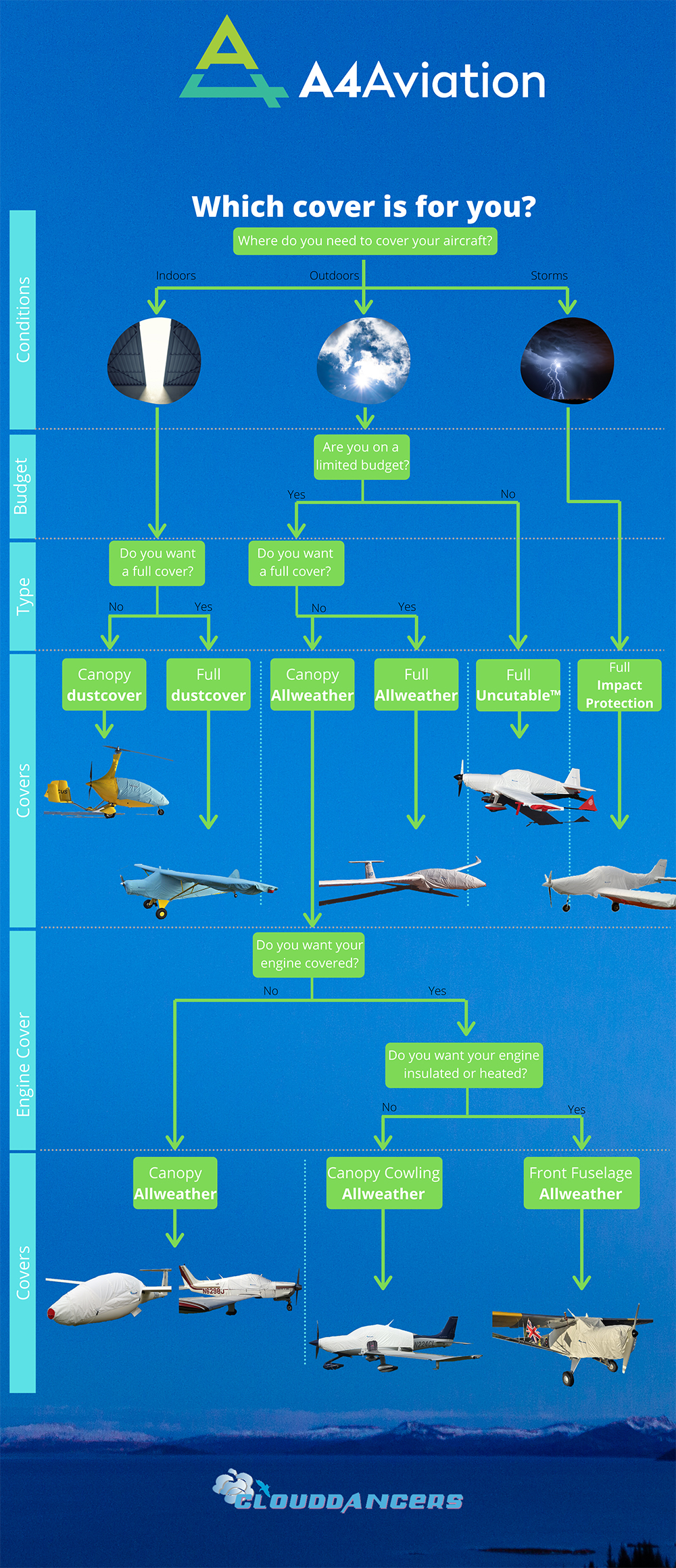 Dust Covers (Cotton)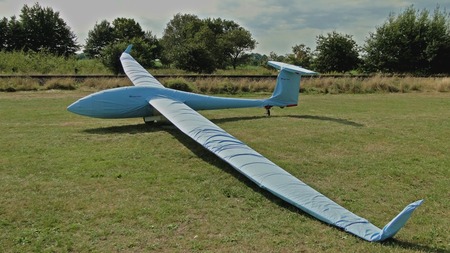 Made out of a durable cotton material these covers are perfect for protecting your aircraft whilst it is being stored in the hangar. The glider is kept clean and stays protected against light impacts by personnel or other objects.

Depending on the model of aircraft these covers come with reinforced sections, on a glider wingtip for exemple, to stop any rips or breaks occurring due to contact with the floor.

The interior of the dust covers consist of a soft non scratch material that will protect your aircraft but more importantly your canopy against scratching over time.
Single Seater Indoor Canopy Cover: 88€ ex VAT
15m Single Seater Full Coton: 433€ ex VAT

If you would like more info or would like to order please contact us.
All Weather Covers (Standard)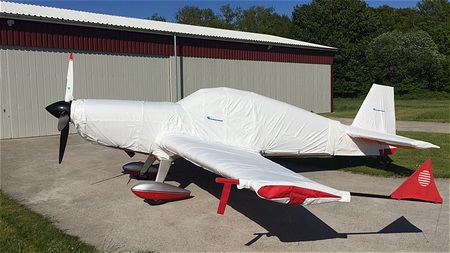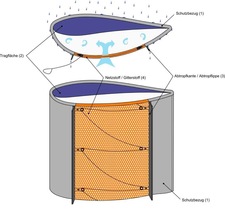 All weather covers provide the same protection as the dust covers but in a material designed for the harsh outdoors. Come rain or shine these covers will protect your aircraft. With a waterproof, breathable and lightweight design these covers will protect the airframe against humidity and rain thanks to great waterproofing and the under wing ventilation system but also against the sun due to the UV resistant outer layer.

These covers are made with a two layer system, an outer water and UV resistant material, and an inner thick cotton fabric that provides a self polishing effect that mitigates any risk of scratching or scuffing. The underside of the cover includes a fabric mesh panel to enable ventilation.

All these covers can come with a mini pulley tensioning system for a snug fit and easy storage and mounting design for quick and easy deployment.
All All-weather covers are now available in White or the new Grey!
Single Seater All Weather Canopy Cover: 114€ ex VAT
15m Single Seater All Weather Standard Full Cover: 824€ ex VAT

If you would like more info or would like to order please contact us.
All Weather "Uncutable"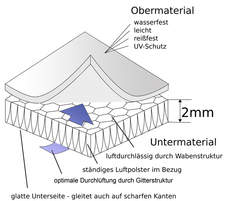 The "Uncutable" line of Clouddancers covers includes Clouddancers' proprietary uncuttable material which consists of a very resistant outer layer combined with a 2mm thick layer of scrim material. This provides even better breathability and ventilation and excellent anti tear properties even if pulled over a sharp surface. These covers are therefore particularly suited to club operation or use in very humid climates. 
All All-weather covers are now available in white or the new grey!
15m Single Seater Full Cover Uncutable: 1,206€ ex VAT
18m Single Seater Full Cover Uncutable: 1,380€ ex VAT
20m/Double Seater Full Cover Uncutable: 1,561€ ex VAT

If you would like more info or would like to order please contact us.
All Weather "Uncutable" + Layover Protection Cover (LPC)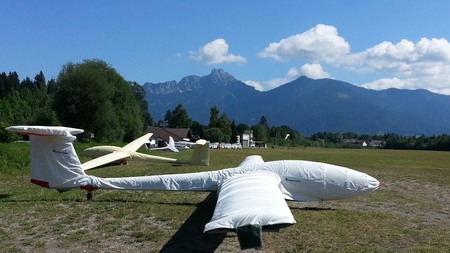 Adding impact protection to your new Clouddancers cover solution can provide great peace of mind. The Layover Protection Cover (LPC), is an additional cover that is used in conjunction with a standard Uncutable cover. If weather conditions deteriorate, you can place the Layover Protection Cover over the already covered glider, adding an extra thickness to protect against heavy rain and hail. This solution means that each cover is easier to handle, has less volume and weight, and in the case of good weather conditions the extra Layover Protection Cover doesn't need to be used, making covering the aircraft much quicker and easier.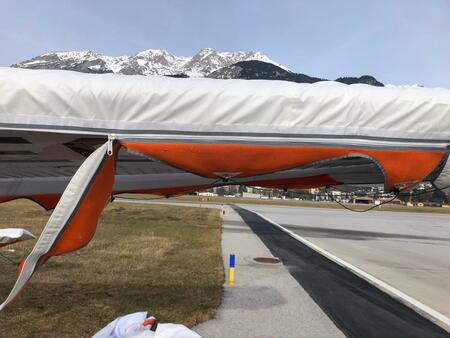 The Layover Protection Cover (LPC) has a full length zip and is designed to be placed over the wing of the aircraft, zipped underneath, and tightened securely. 
The Layover Protection Cover (LPC) has a similar design to the Uncutable cover however is much thicker to protect against hail impact. These covers allow your aircraft to be left outside even in winter in harsh weather conditions.

If you would like more info or would like to order please contact us.
Z-Version & U-Version Wing Covers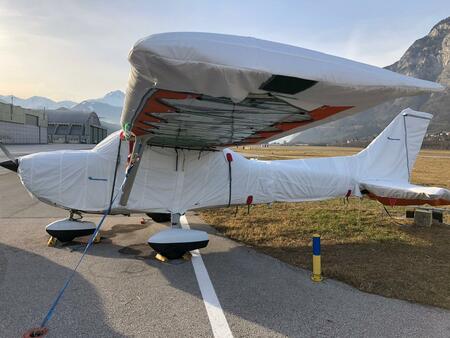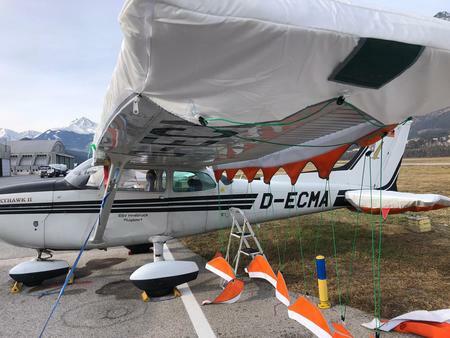 The Clouddancers "tube" or "sock" wing cover design that slides over the wing of your aircraft works great and is quick and easy to use especially on smooth wing aircraft like gliders. However, on powered or high-wing aircraft, especially the ones with wing struts, or on aircraft where sliding the cover down the wing is impeded, like on metal construction aircraft, this design can be difficult to install as the cover is over your head or can get caught on the non smooth surfaces like metal ailerons, turbulators, fuel doors etc.
The new Z-Version cover solves this issue. It is similar to the Layover Protection Cover (LPC) and has no under-wing material. The Z-version comes with a full length zip. This means that the cover can be placed on top of the wing, pulled around and zipped up without having to slide the cover the length of the wing. The U-Version doesn't have this zip but like the Z-Version it has reduced size and weight. Without any underside material, the cover is smaller than the conventional cover and can more easily be taken with you on trips in your powered aircraft.

If you would like more info or would like to order please contact us.
Canopy Covers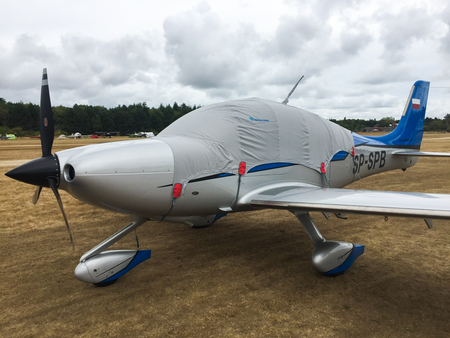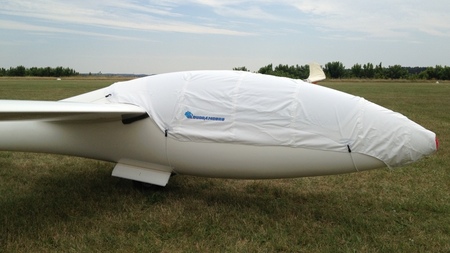 Canopy covers are a great investment for the long term condition of your canopy. Canopy covers can be ordered for all aircraft and are available in coton dust cover style or all weather style. All-Weather covers are now available in either white or grey  

With a fitted design and secure fixings these covers are perfect when storing the aircraft in the hangar, in a trailer or out on the field. These also come with a soft fabric interior that will protect the canopy against scratching or scuffing.
Single Seater Indoor Canopy Cover: 88€ ex VAT
Double Seater All Weather Canopy Cover: 134€ ex VAT
If you would like more info or would like to order please contact us.
Wing Tent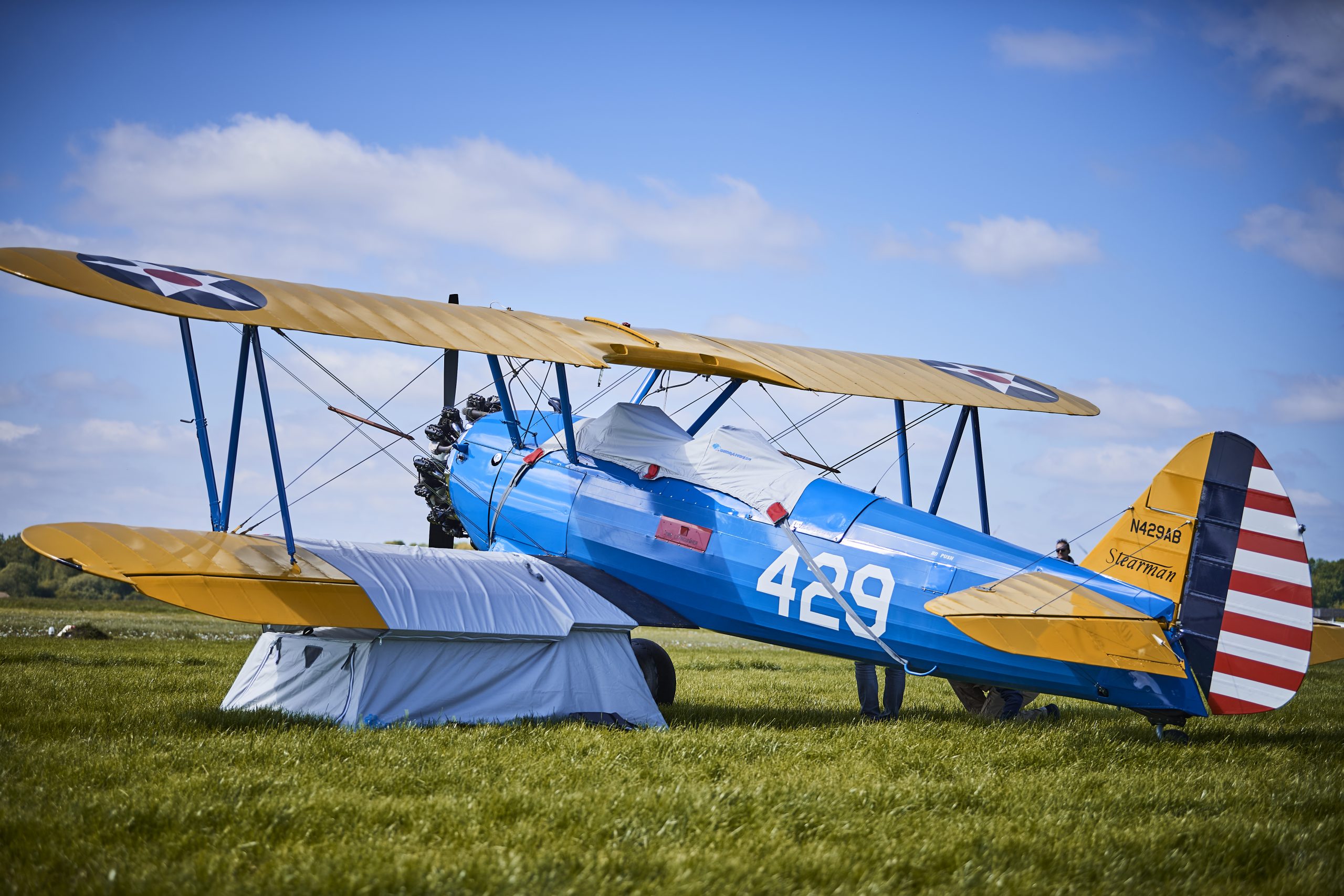 What is a Clouddancers wing tent and why is it useful?
Flying is about liberty, flexibility and adventures. On a longer trip you come across smaller aérodromes with beautiful nature around, why not save some time and sleep next to your aircraft instead of seeking a hotel for the night? Clouddancers' wing tents are both light in weight and easy to set up. Available for one or two persons. See an estimated price (excl.VAT) below:

Wing Tent for low wing: 221€ ex VAT
Wing Tent for High wing: 221€ ex VAT
Wing Tent for Glider Single seater: 194€ exVAT
Wing Tent for Glider double seater: 221€ exVAT
Which cover to choose?
-Dust covers: For indoor use only, made from lightweight cotton, this protects against dust and scratches whilst your aircraft is in the hangar.
-All Weather Standard:Made from UV resistant waterproof outer layer with a cotton lining. These are perfect if you want to leave your aircraft outside from time to time, a very cost effective product.
-All Weather Uncutable: A similar product to the All-Weather Standard cover, however, with an extra scrim layer. This means the covers are much more resistant to rips and tears. The extra thickness gives padding to the cover as well. This cover is excellent for trips where the aircraft will be staying outside. We recommend this cover most of the time.
-All Weather Uncutable + Layover Protection Cover: This cover adds an extra layer of thick padding protecting the aircraft against any impacts. This could be from foreign objects or even hail during a storm. A great investment if your aircraft spends a lot of time outside in less than ideal weather conditions.
Optional Extras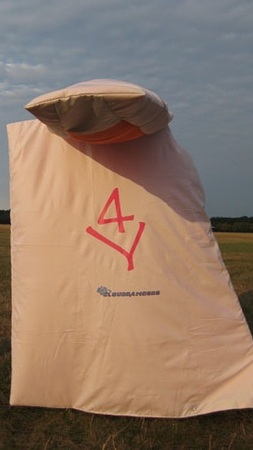 Optional extras that can be added to your new Clouddancers cover include

- Personalised competition or registration print
- Solar panel window for gliders with solar panels fitted
- Water ballast filling flaps to enable ballast filling with covers installed 
- Propeller covers
Do you have any special requests or needs ? Please let us know and we will find you the best solution.